Learn to shoot
Last update of this page 02/25/2001
Summary
Advices to have the right style and to be in
Advices from professional to never miss : main techniques - improve your own technique
Advice to have the right style and to be in

1 - Influence your competitors
Behave as a professional - Look at the playing ground - Take out the boulders where you are going to throw the bowl -Measure the point - Even if it is not necessary, it will upset your competitors - Give your team a blowing up about tactics : it always makes an exhibition !
2-Preparation
Concentration is your most important arm - Don't let you fuck by your competitors, always waiting that you miss their bowl ("faire un trou") - Don't throw the bowl if you are not 100% ready - "Pétanque" is like a puzzle.

3- Manner
Only training and sometimes chance may give you the ideal manner - Try not to throw the bowl like at indoor bowling (with squittles) as it is not very fine and where is the show ? as it shows that you are a little player - Moreover it is not very precise - Rather try to throw your bowl at about 10cm behind the bowl or even directly ("en plein fer") : it is more professional !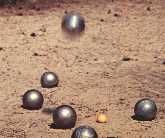 4 - Position and motion
You need to have the feet close together ("Pieds joints" - in provençal "Pieds tanqués" from which "Pétanque" comes from). Always try to keep the same motion - Hold the bowl smoothly (Don't grasp it!). Balance your arm in a natural way, front and back. Once you think to be in the right direction, use your wrist to give a reverse effect : the bounce will be reduced and your bowl can remain at the place of the other one if you hit it (It's called "un carreau"). Then good luck ...
5 - Modesty : usually it never happens ...
Once your bowl has been thrown, two things may occur:

-You miss the bowl! In this case always invent an excuse "It's the fault of John - heis always moving" or " I heart my hand a few minutes ago, i can't plat" and so on ...

-You hit the bowl! "It was not paerfect, i should have done better" or "it's normal, i hit it but i have the impression to play at only 6 meters long - You all have short arms !"

Advices from professional to never miss

Like a bowling throw : "Tir à la rafle, à la rasbaille"
Even if authorised by the rules, this kind of throw 3 or 4 meters behind the bowl addressed, in order to have it going very quickly up to this bowl , could be time to time efficient, but can also create a gig mess into the game, as it my hit any bowl of the game.

NB: It's said that it is better to have 80% of hits with 50% of successfull "carreau" than 90% of hits without "carreau" . Thoink to it and train yourself .

Front thow : "Tir devant"
One of the most usual way to miss the bowl is to jump over it ("la sauter") - This means that tour bowl leap over the bowl, not far from the objective - It's quite good, but still, yoou miss it.
In order to prevent that, a short throw of your bowl, 20 or 30cm behind the target, will give it a rocket speed and you will hit the bowl if you were on the straight line.
Take care! Only use this method on sandy and smooth play field - On a strong field, the first pebble will deflect your bowl from the goal

Direct throw : "tir au fer"
To be used on an irregular playground - You have to hit the bowl directly - It's the most difficult throw, which requires a great accuracy as you do not have to hit the ground - If your shhot is perfect, then you get a "carreau" : your bowl replaces the competitor's one - This throw is the attribute of champions and ... chance

NB: you may hit the bowl on top of it - It's called a cap ("une casquette")

Jump throw : "la sautée"
It's an excellent exercise for becoming more and more precise - At about 8 or 9 meters from where you stand, place two bowls, one behind the other, only separated by the size of a bowl - You always have to hit the second bowl !

"Le carreau":
Once you are regular, you have to make a lot of "carreau" -For this, draw a circle of 50cm in diameter and place the bowl in the middle - Train to hit it without having your thrown ball going outside the circle - Begin in stayiong at 2 or 3 meters, and increase the distance step by step, while reducing the size of the circle.

Pull back : "le rétro"
Put a spin on the bowl may lead to success - But this is really too difficult to explain, but you will understand if you play billiard.

Hit the bowl :
To be good, you have to play scale, like a pianist.
Try to change the distance and even try to hit the jack.
You can also put the bowl on a piece of wood in order to adjust the height.

MARCHAND Olivier - marcholi@yahoo.fr
Back to the presentation - Back to the summary